Number of visitors:






Optimized for browser:






Christmas runs on the New town hall Brno
We got an invitation from deputies of statutory town Brno to attendance on Christmas 2011 side events. The weather was very favourable, so favourable with respect to season. Although was drizzling from the morning and our fingers went numb with cold. The steam locomotive was in operation according to the plan. Two battery locomotives AEG were ready for morning and evening operation and for trains strengthening. We put a simple oval with two side tracks.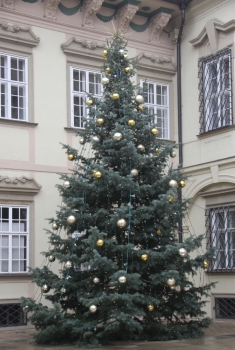 (photo © Tomas Randysek)
Before first train departure.
(photo © Jan Palan)

In arch before station.
(photo © Jan Palan)

Departure from the station.
(photo © Tomas Randysek)
Fully occupied trains with a small passengers.
(photo © Tomas Randysek)
Jirka started to heat up steam locomotive SOLINGEN about ten o´clock. You can see condense steam from smokestack thanks to cold weather. And when Jirka opened draining valves, was steam operation good and proper.
On the side track.
(photo © Jan Palan)

Operation preparation.
(photo © Tomas Randysek)

We will change tractions shortly.
(photo © Tomas Randysek)
Smoke was coming from smokestack.
(photo © Tomas Randysek)
A pace lap.
(photo © Tomas Randysek)
Who is clouds of steam?
This is our Jura!
(photo © Tomas Randysek)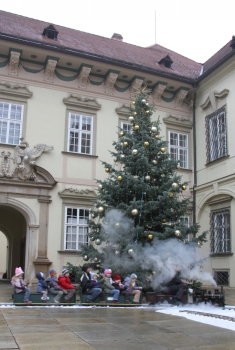 Under Christmas tree.
(photo © Tomas Randysek)
SOLINGEN in operation.
(photo © Tomas Randysek)
View on courtyard.
(photo © Tomas Randysek jun.)

Our new information boards.
A gift from Christ Child?
(photo © Tomas Randysek)
This is right way. Satisfied, but a little chilled passengers.
(photo © Tomas Randysek)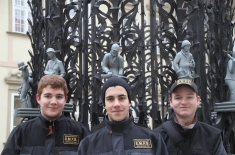 We wish you happy year 2012.
(photo © Tomas Randysek)